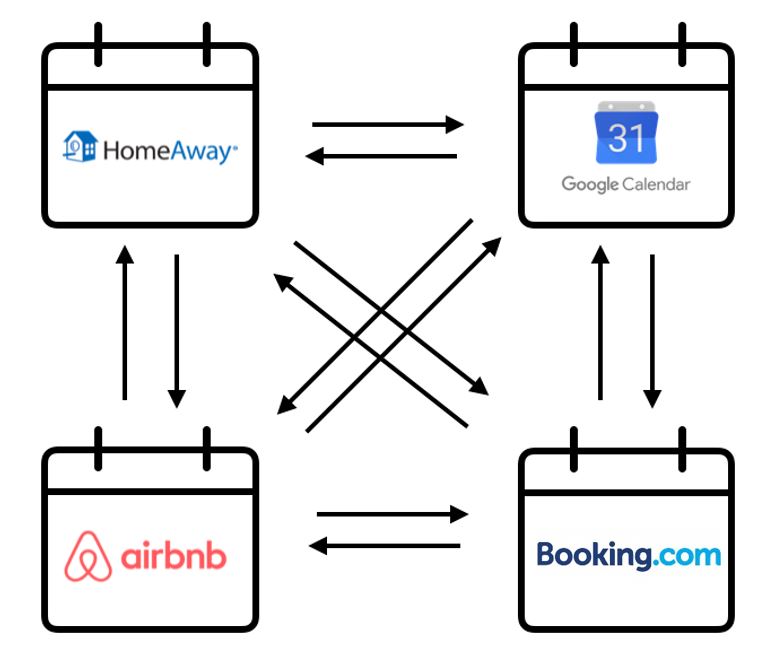 What is iCalendar for Vacation Rentals?
iCalendar also known as iCal is a computer file format (identifiable by the .ics in the calendar URL) that communicates data on availability or unavailability. iCal is growing in popularity, and the most important vacation rental listing sites (Airbnb, HomeAway, VRBO, Booking.com, Niumba, Flipkey, Tripadvisor, Vacationrentals.com etc) currently accept iCalendar imports. Here we will explain to you what is iCalendar for Vacation Rentals?
Why should I work with iCalendar?
Icalendar helps you keeping your calendars automatically up to date. Once you link your calendars via iCal all new reservations or blocked dates will be instantly closed out on all connected calendars. This helps your saving a tremendous amount of time by not having to manually block out all calendars and helps you by not receiving un-relevant requests for that dates that aren't available or even worst confirmed reservations for dates that already have been booked.
What are the advantages of iCalendar?
Live availability synchronization
Completely free to use
Easy to setup
Most booking platforms work with iCalendar
Synchronize with your personal Google Calendar
Prevent overbookings from happening
Save lots of time by not having to manually block out calendars on other platforms
Great way to scale your vacation rental business and get more reservations
What is iCalendar for Vacation Rentals?
What are the disadvantages of iCalendar?
There might be a slight delay in Ical synchronization updates of up to 30 minutes
Ical only synchronizes Availability, no rates, and content
Assure that you are connecting the correct calendars with each other in order to prevent mistakes from happening.
So how can I setup Icalendar for my property?
Let's assume that you have the following calendars for your property:
Google Calendar (the one you add manual bookings to)
HomeAway
Airbnb
Booking.com
In this example, you'll have 4 calendars to synchronize. to get started You should find the "export iCal URL" for each of the calendars above, and add these as an "iCal import" to each of the other calendars (for example here you can find how to import and export iCal on Airbnb). When a booking is added in any of your calendars, it will be imported to the other calendars. Each of your calendars would be "importing" 3 other calendars in this example.
Important: Assure that you are connecting, in this case, both all outgoing (export) and ingoing (import) connections. See the picture of this post. In total, you will be importing/exporting the Icalendars 12 times in order to be fully connected. Once completed your calendars are fully connected and will be automatically synchronized.
Please feel free to contact us if you have more questions about "What is iCalendar for Vacation Rentals?" or if you are looking for professional help and guidance to set this up successfully.